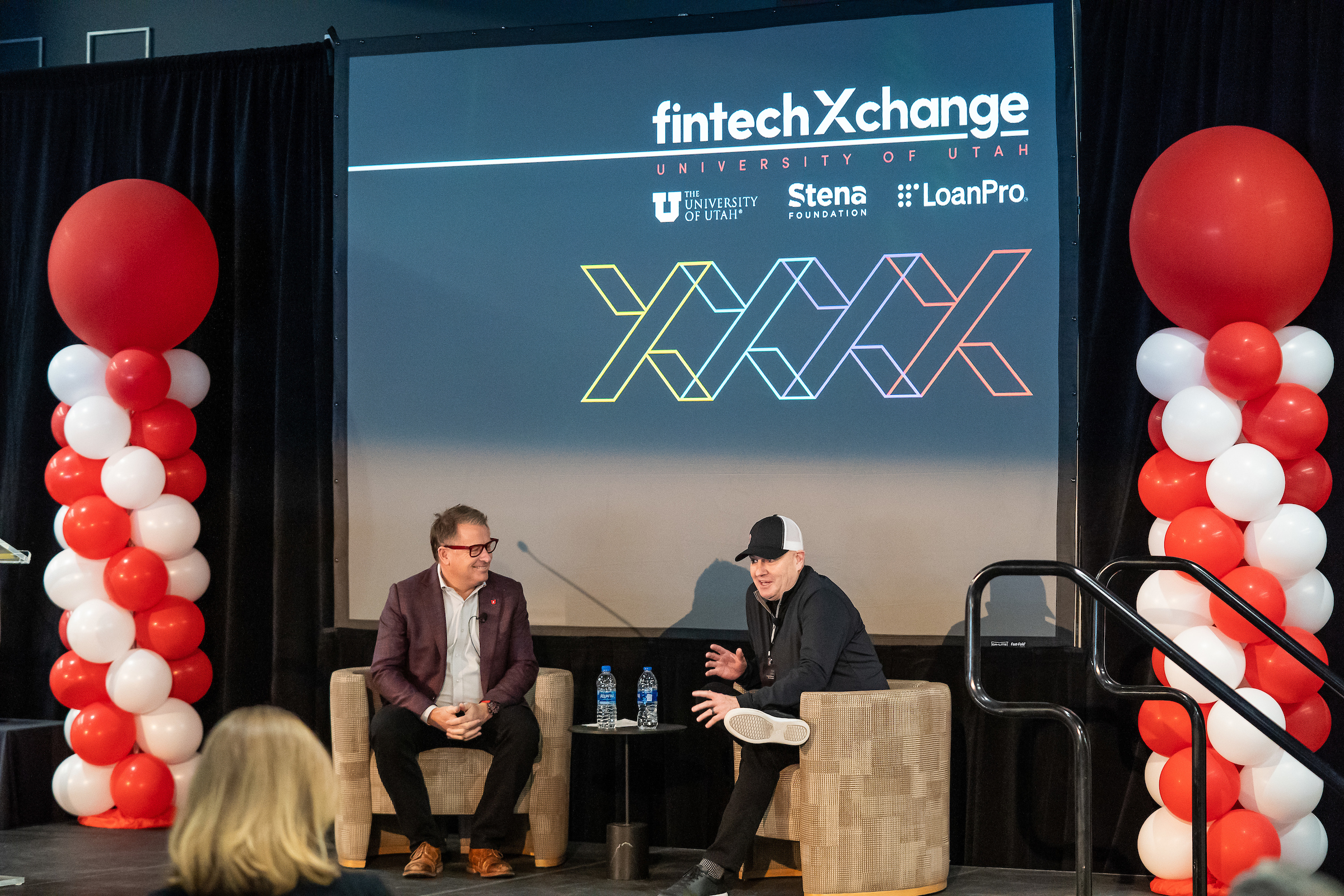 On Jan. 30-31, 2023, leaders in the financial technology industry met at the 2023 fintechXchange Summit at the University of Utah to discuss trends and opportunities in one of the fastest-growing industries in the world. The event was hosted by the Stena Center for Financial Technology at the University of Utah and sponsored by the Stena Foundation and LoanPro.
Attendees included company leaders, lawmakers, and researchers. A few of the many speakers included Utah Gov. Spencer Cox; Salt Lake City Mayor Erin Mendenhall; University of Utah President Taylor Randall; Steve Smith, Finicity founder and chairman of the Stena Foundation; Derek White, CEO of Galileo Financial Technologies; and Kristy Kim, CEO of TomoCredit.
During the summit, the University of Utah announced the new Stena Center for Financial Technology. It was created with vision and support from the Stena Foundation, which was founded by University of Utah alumni Steve and Jana Smith to help people thrive by solving big problems related to fintech.
Here are highlights and takeaways from all the summit and breakout presentations:
Monday, Jan. 30, Sessions
Welcome from Utah Gov. Spencer Cox (Keynote)
To kick off the event, Utah Gov. Spencer Cox welcomed attendees and spoke about the current state of fintech in Utah. "Utah has long been recognized as a center of excellence for technology growth and the financial sector," Cox said. A recent study by WalletHub showed that Utah is the number one state in the nation to start a business, and Governor Cox is dedicated to maintaining that.
Cox concluded by saying that, while the government is deploying measures to boost the fintech industry in Utah, it is the private sector that is making a difference.
Hello! Meet the New Stena Center for Financial Technology (Keynote)
University of Utah President Taylor Randall and Steve Smith, founder and chairman of the Stena Foundation, hosted a fireside chat to introduce the new fintech center. The vision for the center came when Smith found that those outside the fintech industry lack the necessary context of fintech needs. "Getting that context makes all the difference," Smith said. "If you could find someone who understood financial services, you didn't have to spend six months creating context."
Smith's solution was to design the notion of a lab that touched on all the basics and constants within the industry. "We don't want to write checks that are band-aids, we want to invest in an ecosystem," Smith said. "Success begets success, and this center will be a participant in the success of these companies."
To conclude the chat, both speakers discussed the need for diversity and inclusion in the fintech industry. They hope the center can bring perspective and innovation to the industry by creating opportunities.
Consumer-Centered Financial Services: How FinTech is Transforming Access to Capital (Breakout)
The rise of fintech has enabled more data sources in credit evaluation, payments processing, account opening, wage access, and government benefits. These developments can expand access to capital for businesses and individuals. In this breakout session, we learned more from Kurt Lin, founder and CEO of Pinwheel; Lisa Kimball, a 20-year veteran of the financial services industry; and Ryan Christiansen, the discussion moderator and the executive director of the Stena Center.
Among other topics, the panelists discussed how consumers now expect to access financial services through technology. "There is no service that I am willing to be told when and how to interact with that," Kimball said. But service providers must work hard to build and maintain trust and security. Many people are still reluctant to conduct some transactions electronically. However, this could be more perception than reality. "The majority of threats that happen are human error or social engineering," Lin said.
The panel highlighted the importance of inclusion in fintech. Many employees are living from paycheck to paycheck, oftentimes running out of funds before payday. One way that fintech is improving inclusion is through earned-wage access, which allows people to receive payment more frequently than the typical payroll cycles. The goal is to move to a world where employers can process payroll daily, Lin said.
University Research Spotlight (Breakout)
In this breakout session, University of Utah faculty shared their research. We heard from Elena Asparouhova, professor of finance at the David Eccles School of Business; Sameer Patil, associate professor at the Kahlert School of Computing; and Ryan Stutsman, associate professor at the Kahlert School of Computing.
Asparouhova leads the University of Utah Laboratory for Experimental Economics and Finance. Her research focuses on how algorithms impact the bigger picture of the environment in which they're applied, specifically in the world of the stock market. She works with students to teach them about the market structure and help them understand the technical side of markets, including data and algorithms.
Patil's research focuses on how cybersecurity and privacy, broadly defined, affect the experience of users of fintech products. He discussed how security mechanisms like identity verification can negatively impact the user experience. Because identity verification is often based on security questions users no longer remember the answers to, users are locked out of their own accounts without a way back in.
Stutsman's research focuses on data trends and back-end development. He works with real-time, event-oriented systems like Facebook and Google that need to process clicks very quickly. He is looking at how changing trends in data centers and hardware limitations might influence how those types of applications are built.
The Rise of Connected Banking in FinTech (Breakout)
The technology connecting fintech apps and services continues to disrupt and transform financial services. This breakout explored how banking connectivity has evolved, the current opportunities and challenges, and its impact on the future of fintech with guests Jordana Cohen, product manager of Plaid; Anil Mahalaha, chief evangelist at Akoya; and Ryan Christiansen, the discussion moderator and the executive director of the Stena Center.
The panel discussed open banking and the role of the Financial Data Exchange (FDX), a non-profit industry standards body operating in the US and Canada. FDX creates a market standard but is not a regulatory body; this allows industry professionals to add and innovate on top of what is standard. "The US model of having small innovations and then figuring out a way to make them standard is working," Cohen said.
The breakout ended with a discussion about how consumer data is being used and shared, the importance of transparency, and the future of consumer protection. The panelists explained that because data is flowing between parties, it's important to confirm what a consumer has consented to with each institution and let them know the exact data that is being shared. Consumers own their data and should be able to move and access their data from any institution. This idea fosters innovation in privacy policies and customer authentication while driving the necessity of data access through APIs.
The State of FinTech in Utah (Breakout)
Leaders from Utah fintech companies discussed the explosive growth of fintech in Utah over the last several years and make predictions for the future. What's up next for the industry? And how can the state continue to support the strong fintech ecosystem? This breakout explored these topics with guests Jane Barratt, chief advocacy officer at MX; Nick Thomas, a founder at Finicity; Jordan Wright, co-founder and CEO of Atomic; and moderator Andy Capener, senior VP of marketing at Mastercard.
One topic the panel explored was the definition of fintech and its value. Fintech is now pervasive across all financial services and is now an expected part of many transitions, the panel discussed. "It's pretty much everything now," Write said. Among the many benefits of fintech is the potential to impact people's lives by providing greater access through phone applications and other means. "We have an opportunity for technology to truly help move people's financial lives forward," she said.
The panel explored Utah's strengths as a leader in the fintech industry as well as areas it could improve. One strength the panel highlighted was the proximity to nature and recreation opportunities. Other strengths included work ethic, a young population, affordable cost of living, the legacy of financial services companies, universities and organizations like the new Stena Center, and access to consumer data through companies in the state. One area the panel identify to improve was to continue growing inclusivity in the workforce.
Banking 3.0: What's Next in the Financial Services Evolution? (Keynote)
Banks everywhere are leveraging new technology to streamline processes and provide better experiences to their consumers.  This keynote discussed the next iteration of banking apps, services, and technology, and what it means for the future of banking. The presenters included Derek White, CEO of Galileo Financial Technologies; Andrew Lee, head of new financial products for Stripe; Rasha Katabi, founder and CEO of Brim Financial; and moderator Matt Browning from the Stena Foundation.
The discussion centered on how fintech puts pressure on traditional financial institutions. The panelists explained that, while it's easy for fintech companies to experiment, innovation is more difficult for banks due to thin margins and federal regulations. As fintech applications become more widespread, banks are struggling to catch up. "Banks in general are struggling with penetration of their own customer base," Katabi said. "They are looking in the eye of going into oblivion, of disappearing. That will be the biggest motivator for change."
At the end of the discussion, the panelists shared what they are most excited about in the future of fintech. Their answers included the momentum around financial inclusion, innovation in fintech infrastructure, and the evolution of human-technology interaction.
Tuesday, Jan. 31, Sessions
FinTech in Salt Lake City (Keynote)
Salt Lake City Mayor Erin Mendenhall discussed how the city is attracting new fintech companies and why fintech is an important pillar of the city's continued economic growth and development. Fintech is the fastest-growing, highest-paid industry in the state, as well as the most economically resilient. With the addition of the Stena Center for Financial Technology, opportunities in Salt Lake City are expanding. "Fintech offers access to opportunities for our residents, many of whom, from an economic perspective, still have a largely predetermined course based on where they live in our city," Mendenhall said.
Driving Financial Inclusion with FinTech Creativity (Keynote)
Kristy Kim, founder and CEO of TomoCredit, discussed how she is creating new and innovative ways to assess creditworthiness for the underserved communities who are thin-file or "credit invisible." Kim emigrated to the United States from South Korea and didn't know she didn't have a credit score until she was rejected for car loans as a college student. This experience led her to create TomoCredit, a fintech startup building the future of underwriting without a traditional credit score. "I feel like I have the best job ever," Kim said. "I was able to turn my struggle into a creative solution."
Kim wanted to create a credit card that was accessible to everyone. TomoCredit offers credit cards by evaluating bank data rather than credit scores and helps users build credit with a weekly automatic payment, to keep credit utilization low. In addition, Kim creates learning materials about credit scores to share with those who need them.
From the Hill: An Update on the FinTech Regulatory and Legislative Environment (Breakout)
The current political and regulatory environment surrounding fintech is complex and important for anyone in the industry. This panel explored trends that will shape the fintech industry in the coming months and years. The presenters included Tom Carpenter, senior VP at Mastercard; Bryan Blom, senior VP at Porterfield, Fettig & Sears; and Stephen Newton, senior VP at Porterfield, Fettig & Sears.
The panel kicked off with the question about why to engage when the process seems slow and dysfunctional. The panelists responded by explaining that it is necessary to grow the industry and achieve business goals. One example discussed was consumer data privacy rights. Currently, the country has a patchwork of regulations, and politicians and legislators are slowly addressing the topic. "Like many things in Congress, they will wait until it's unbelievably painful," Newton said.
At the end of the discussion, the panelists offered advice for things to do or avoid while addressing regulatory issues. Know that legislators are managing many complex topics, and you need to present information in a way they can understand quickly, Newton explained, and focus on building a relationship with legislators. Stay engaged and always try to be part of the conversation, Blom said. "There is an old adage that if you are not at the table, you are on the menu," he said.
Amazon Web Services (Breakout)
How is Amazon Web Services (AWS) an important tool for growing a fintech business? And what advice do they have for making the best use of their services? This breakout explored these questions and more in a presentation led by Jeff Henriod of AWS.
Henriod led his discussion by explaining that many of the most important fintech companies in the world are powered by AWS, such as Stripe and Klarna. They choose AWS for many reasons including security and compliance. Henriod invited the audience us AWS to grow their business efficiently. "Let us do the undifferentiated heavy lifting so you can focus on your product," he said.
University Research Spotlight (Breakout)
In this breakout session, more University of Utah faculty shared their research. We heard from Olivia Sheng and Arul Mishra, both professors at the David Eccles School of Business.
Professor Sheng's research focuses on predictive and prescriptive analytics, some based on deep learning methods, to address the needs in healthcare, marketing, social media, business relationship and performance, human resource, investment, products, and operations management. She works with post-earnings-announcement drift (PEAD) software using multi-task learning.
Professor Mishra's research, on a broader level, uses machine learning methods to understand customer decisions and guide firm strategies. She focuses on choice architecture, the factors that go into how humans make decisions, and how algorithms can influence those decisions.
Wrap-Up and Closing Remarks (Keynote)
To close out the conference, Ryan Christiansen, executive director of the Stena Center for Financial Technology spoke about his excitement to open the center and welcomed attendees to return to the conference next year.
Learn more about the fintechXchange Summit at stena.utah.edu/xchange.